PIPER M600/SLS - FLY FREE UNITL 2025
Five Years Worry-Free. Free.
Piper Aircraft just announced a new, limited time offer for the M600/SLS. Take delivery by December 31, 2020, and get the following items - FREE:
Piper Airframe Warranty - 5 Years (1,500 hours) Parts and Labor
Garmin Avionics - 5 Years (1,500 hours) Parts and Labor
Pratt & Whitney Engines - 7 Years (2,500 hours) Parts and Labor
Hartzell Propeller - 5 Years (1,500 hours) Parts and Labor
Professional Pilot Training - 5 Years, (1) Initial and (4) recurrent at Legacy Aviation
Free Fuel - 5 Years, 100 hours per year @ 40gph - AvFuel pre-paid fuel card, renewed annually
Annual Inspections - 5 Years
Special Inspections - 5 Years
Typical Consumables - 5 Years
Jeppesen Charts - 5 Years (Regional PilotPak Subscription)
The only thing easier than "FREE" this fall is taking delivery of one of a limited number of new M600/SLS aircraft by December 31, 2020. We will do the rest.
Contact us today at 877.359.7473 or click here to email us to learn more about this limited time offer.
---
Safety | Luxury | Support
Introducing the HALO Safety System
Taking Peace of Mind to a Whole New Flight Level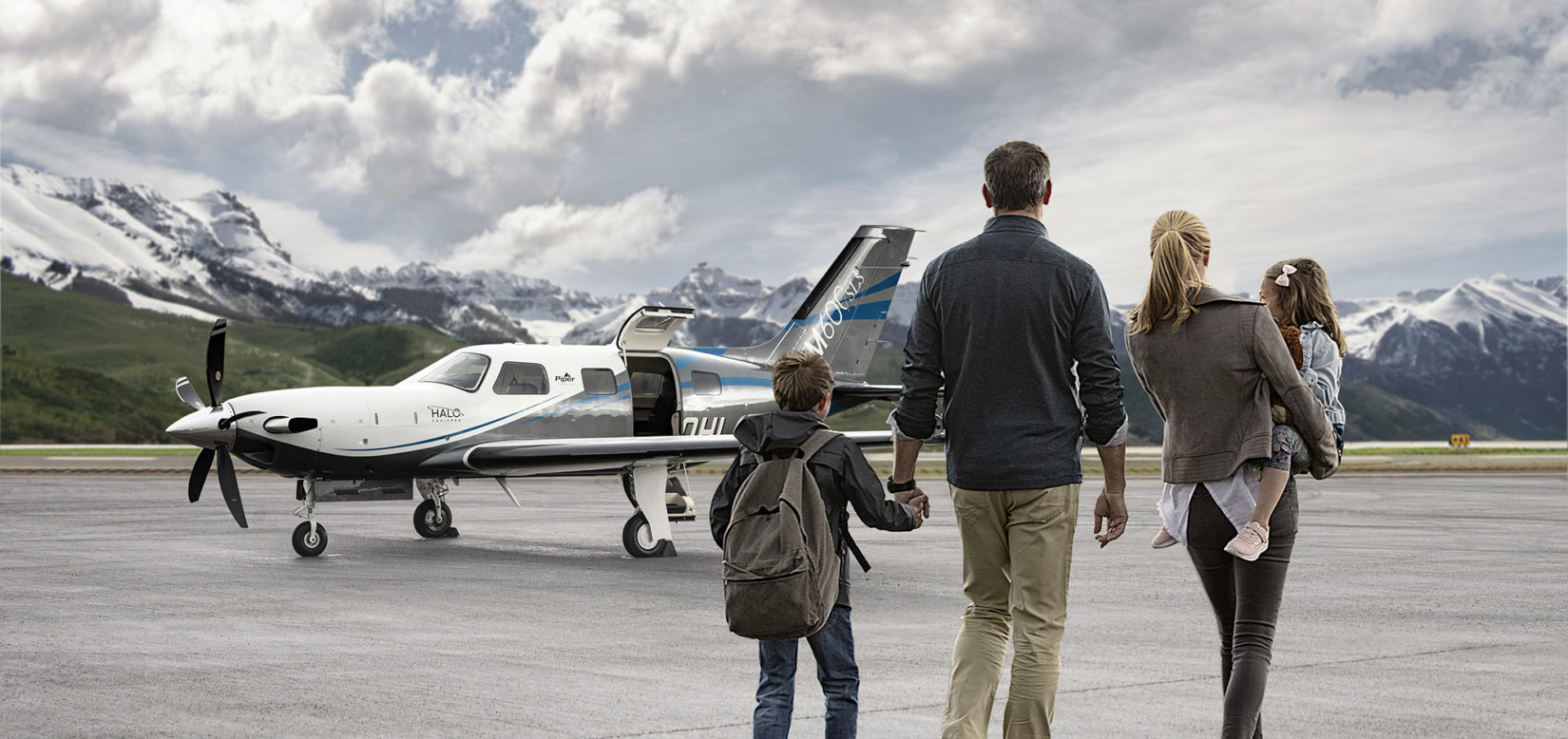 The new HALO Safety System recalibrates the scale of safety by incorporating innovative technology that is designed to enhance situational awareness while also providing autonomous safety features that can engage automatically or manually if ever needed. Incorporated as a standard feature on all M600/SLS products, HALO includes the most significant advancement in recent general aviation history: Garmin Autoland, and was first certified the M600/SLS, continuing our commitment to protecting what's most important, you and your passengers.
Autoland: If necessary, HALO takes over the controls and guides the aircraft to the nearest runway for a precision landing. Automatically activates when autopilot is in LVL mode for two minutes or when Emergency Descent Mode is activated at 14,000 feet. Can also be engaged manually by a guarded switch on the instrument panel. GFC 700 Autopilot with Advanced AFCS Fully integrated flight control system for exceptional flight automation with a dual AHRS-based system. Seamlessly integrates a flight director, autopilot, automatic trim and yaw damper into the G3000 suite.
Automatic Level Mode: Returns the aircraft to a wings-level attitude with zero vertical speed at the push of a button.
Autothrottle: The M600/SLS includes a fully integrated, standalone auto throttle, which reduces the pilot workload. The single-lever autothrottle automatically adjusts the aircraft's power settings based on the preset flight profile – from climb-out to the landing approach.
Hypoxia Recognition System with Automatic Descent Mode: Monitors pilot interaction when autopilot is engaged at cabin altitudes above 14,900 feet. If needed, the system brings the aircraft to a lower altitude to allow recovery from hypoxia.
SafeTaxi®: A highly detailed, georeferenced airport map that displays your aircraft's position on the airfield. Also shows an overlaid map of hold short lines.
TerminalTraffic™: Syncs with SafeTaxi maps to display all ADS-B equipped aircraft and ground vehicles for increased situational awareness.
SurfaceWatch: Its clear visual and aural cues direct you to the correct runway on takeoff and approach.
Flight Stream 510: A wireless gateway that streamlines your workload by connecting preflight planning to your mobile device from the G3000 avionics system.
For more information, call us at 877.359.7473 or click here to email us.
---
If you would like to learn more about the new Piper M600SLS, click here for the Piper Aircraft website.
For more information about Garmin's Autonomí Autonomous Flight Solutions, check out their website here.
---
Piper Halo Safety System
---
Garmin Introduces Autoland
---
Garmin Autonomí: Autoland Activation
---
For more information, call us at 877.359.7473 or click here to email us.